DewMusic Studio is excited to be offering "College Audition Prep" for flute and french horn students that are thinking of pursuing music beyond high school. This program is dedicated specifically to learning audition repertoire, building practice habits, providing practice plans, and developing audition techniques. This type of preparation gives students the best chance of being admitted to their top schools and receiving scholarships. Register Today. Questions? Email us!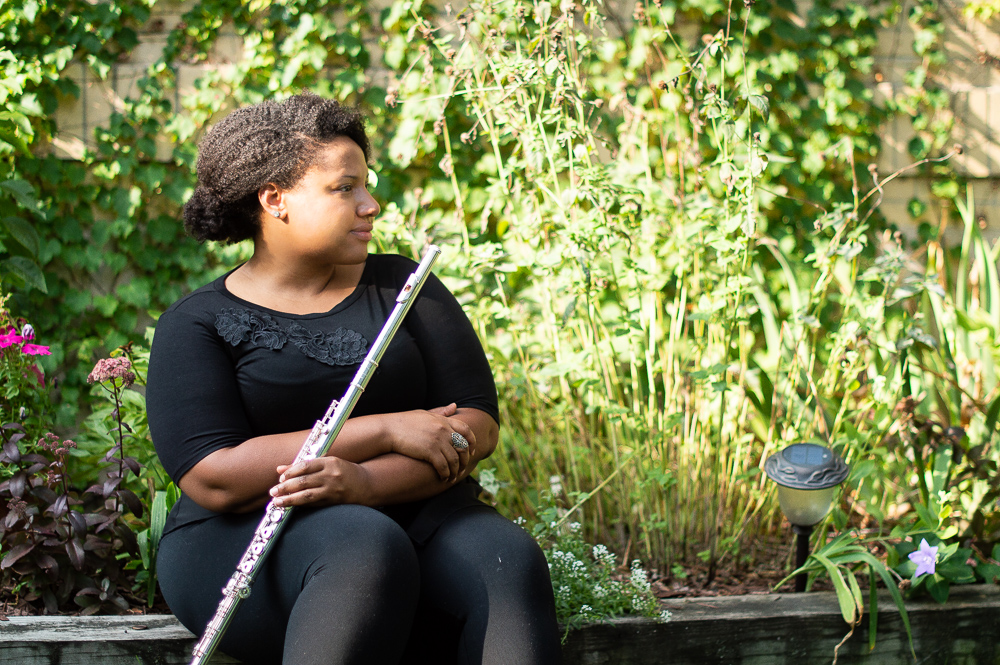 Michel Dew is the definition of an entrepreneurial artist. Freelance flautist, songwriter, and educator, she graduated cum laude from the Boston Conservatory in 2013 with a Bachelors of Music in Flute Performance. In addition to flute, she studied piano, voice, and pedagogy. Her teachers include renowned players Geralyn Coticone, Ann Bobo, Jeff Zook, Rhonda Larson, Kazuo Tokito, and Ervin Monroe. She has performed in masterclasses with notable musicians Marianne Gedigian, James Galway, Joseph Silverstein, Rhonda Larson, Amy Porter, and Michel Debost.
As a soloist, Michel has performed professionally in Boston and in the Chicagoland area. She has participated in competitions across the United States and was honored as a finalist in the James Pappoutsakis Memorial Flute Competition. Her woodwind quintet was the winner in the Boston Conservatory Chamber Honors Competition for two consecutive years, and she is a founding member of the Kelkarna Trio, an innovative saxophone, flute, and piano ensemble in Boston. She is also a founding member of Peridiam, a Chicago-based classical/contemporary flute and horn duo.
Michel discovered a passion for songwriting while participating in a ProArts program at the Berklee College of Music. After starting her own band, she made her first professional recording at Studio 52. Her songs incorporate her classical training with her contemporary style, resulting in music that dares to be different.
To achieve her goal of bringing the joy of music to children, Michel established her first private studio in the greater Boston area in 2014. Her 15+ years of classical training, combined with a decade of professional childcare experience, provide the basis for a unique approach to her teaching style. Drawing on her expertise in child development, she tailors her lessons to each individual student. For those in school, private lessons complement school programs
Michel is currently sharing her vitality, knowledge, and love for music with students at her private studio in Evanston, IL.
Steph Smith was predestined to excel as a professional french horn player. Born into a family of musicians, she is a third generation horn player who has inherited artistry that simply cannot be taught.
Originally from Park Ridge, Illinois, Steph relocated to Boston, Massachusetts in 2010 to attend the Boston Conservatory. In 2014 she graduated with a Bachelors of Music in french horn performance.
Recognized as an up-and-coming artist Steph has received a Boston Conservatory Artistic Merit Scholarship, the Chicago Federation of Musicians Scholarship, and the James D Sedlack Memorial Scholarship to aid her towards becoming a professional musician.
Steph's musical experiences span farther than the range of the instrument itself. While attending the Boston Conservatory she was trained to perform for all mediums and styles of performance art, including dance, combined chorus, musical theater, opera, wind ensemble, brass ensemble, chamber music, and orchestra.
Steph was reviewed positively as a sensitive player during a performance of Mozart's Don Giovanni.
"...and the difficult horn parts (This is, after all, an opera in which cuckoldry is important) stood out with bright but never overbearing sound" -The Boston Musical Intellegencer.
Steph was honored to be selected to perform in the late Gunther Schuller's Progressive Jazz Orchestra conducted by the Schuller himself during the Boston Conservatory's New Music Festival in 2011. She is an active performing chamber musician in the Greater Boston area. Most recently, Steph was a founding member of 4Play Horn Quartet which was awarded first place at the 48th International Horn Society Symposium's horn quartet competition. The quartet was honored to perform on one of the final featured artists performances. Steph was a founding member of the woodwind ensemble The Niji Quintet, best known for its extensive community outreach. The quintet was selected to perform as featured artists of the Museum of Fine Arts' Community Concert series in 2014. Two of Steph's chamber ensembles have won the Boston Conservatory Honors Chamber Music Competition, once in 2011, and again in 2013.
Steph's orchestral opportunities have taken her to locations that musicians only dream about. She has performed in Boston's Symphony Hall, Chicago's Symphony Center, New York's Carnegie Hall, Rotterdam's de Doelen, and Amsterdam's Concertgebow. Locally Steph has performed as a member of the Haffner Sinfonietta, East Coast Scoring Orchestra, and Brookline Symphony Orchestra. She has also substituted for the Boston Philharmonic as well as performed as a utility player for the Park Ridge Civic Orchestra in Illinois.
Steph studied under esteemed french horn pedagogues Eli Epstein, Melanie Cottle, and Dorothy Katz. She has been coached by world renowned musicians Geralyn Coticone, Adrian Morejon, and Naomi Bensdorf Frisch. Steph has also performed in Master classes with notable artists James Somerville, Jason Snider, Luca Benucci, Norman Bolter, Joan Watson, Tage Larson, and Dale Clevenger. When not performing Steph is either teaching private lessons or is on location shooting head shots for musicians as a freelance photographer
College Audition Prep Registration